George Disney's grave after being rededicated on February 26, 2022 on the 158th anniversary of his death

On a cold February morning in the early dawn atop Rocky Face Ridge during the American Civil War, Confederate soldier Private George Disney sat up, stretched his arms to the sky, and yawned with a wide-open mouth as he took in his first waking breath from his overnight slumber and then he laid back down as if to fall back asleep. His comrades decided to let him sleep a bit longer.

It was February 26, 1864, and the Confederate Army of Tennessee, some 40,000 men and boys from across the South, were encamped around Dalton, Georgia, where they had resided since the previous November when they were routed from Missionary Ridge at Chattanooga. Disney, a 35-year-old immigrant from England, had cast his lot with his adopted state of Kentucky at the beginning of the war. Joining the 1st Kentucky Infantry Regiment on June 1, 1861, in Owensboro, Kentucky, for a 12-month enlistment, Disney then joined Company K of the 4th Kentucky Infantry Regiment on July 24, 1862, while at Vicksburg, Mississippi. His second enlistment was for three years or the duration of the war after his first term of service had expired. So far as anyone knows, Disney was never married, and he had no children.

His unit, a part of the famous Kentucky "Orphan Brigade," had not been able to return to their native state and their homes during the war because Federal troops had occupied the Bluegrass State since early in the war. This caused their leader, Maj. Gen. John C. Breckenridge, to famously call them "my poor orphans!" following a desperate charge at the Battle of Stones River. Disney had served throughout the first three years of war at Vicksburg, Baton Rouge, Stones River, Jackson, Chickamauga, and Missionary Ridge. Disney and his comrades from the 4th Kentucky Infantry were stationed atop the southern part of Rocky Face Ridge, or popularly called "Buzzard's Roost" because of the large quantity of buzzards that roosted along the heights of the ridge, both north and south of Mill Creek Gap, or also called Buzzard's Roost Gap. The Kentuckians had been ordered to form a "living telegraph" line to report back down the Dalton side of the mountain of any advance of the Union army from Dogwood Valley to the west.
After an hour or two, the other Kentucky soldiers tried to wake up Disney. It was then that they realized he was dead, but they could find no injury on his body. His comrades thought that perhaps their friend had died of heart failure or some unknown disease, but when they began to wash his face before burying him, they discovered a bullet hole exiting through the back of his head but no entrance wound. "The hair on the back of his head was found stiff from clotted blood," according to fellow Kentuckian Virginius Hutchen, also of the 4th Kentucky Infantry. Hutchen, a former 2nd Sergeant, continued, "and it was then clear that while gaping a minie ball from a Federal musket in the valley in front had entered the open mouth and crashed through the back of the head of the unfortunate soldier." His messmates buried Disney at the spot where he fell. They piled rocks upon his grave to keep the buzzards away, and they placed a wooden headboard for a gravestone on which they carved his name, unit, and date of death.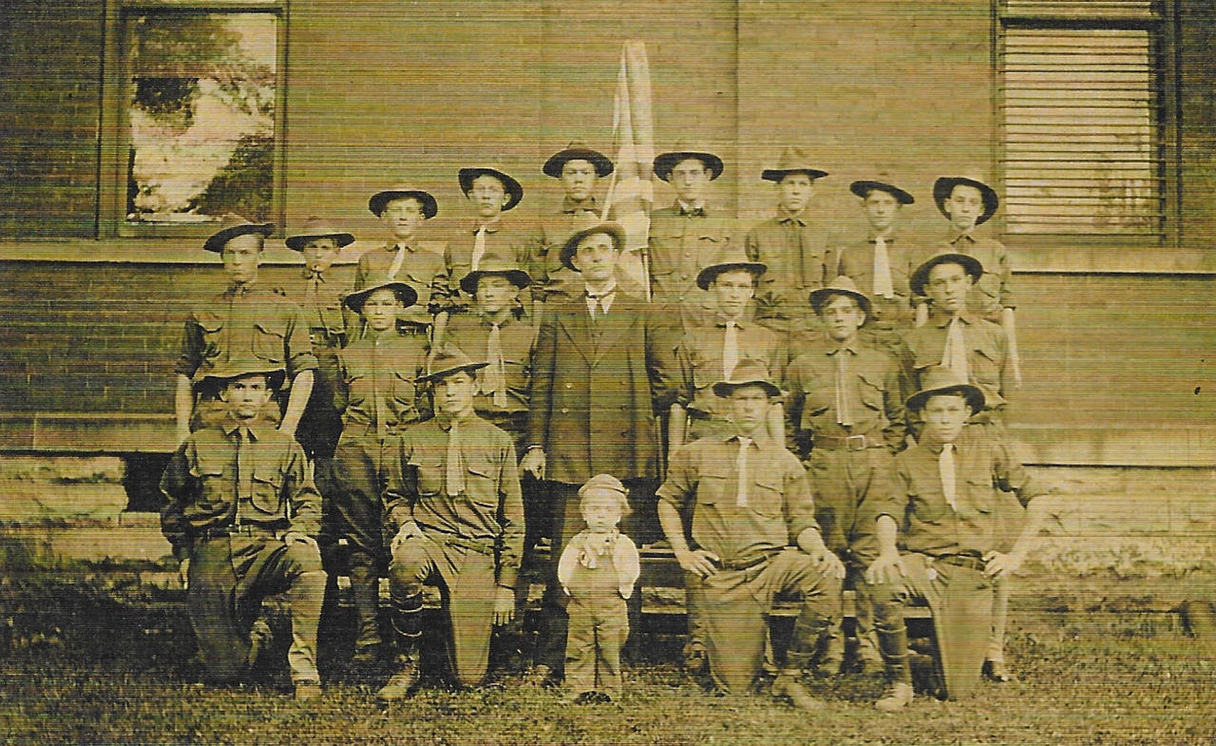 Scoutmaster Wiliam Sapp and Dalton Boy Scout Troop, which installed the original granite marker on Monday, May 13, 1912

Nearly 50 years later, a newly created organization, the Boy Scouts of America, was beginning. One of its first chapters, a troop in Dalton, Georgia, had just organized in 1911. Sponsored by First Baptist Church, Dalton, Georgia, its Scoutmaster was Dalton attorney and Clerk of Court William Sapp, Sr. The boy scouts and Scoutmaster Sapp took a hike to the top of Rocky Face Ridge where they discovered the grave of the Kentucky orphan and a badly worn wooden headstone in which they could only make out the state that he was from and a portion of the date that he died. Subsequently, Mr. Sapp was on a business trip on the Western & Atlantic Railroad between Louisville and Atlanta when he learned that a war veteran who had served in the Kentucky "Orphan" Brigade was also on the train. Mr. Sapp arranged for an introduction with the old Kentuckian and began to tell him about his new Boy Scout group and about the grave that they had discovered atop Buzzard's Roost when suddenly, the veteran excitedly exclaimed, "Why, yes I remember. That was George Disney. He was from England. He was my messmate and friend. And this is how he died. We were ordered to..." The Kentucky Orphan began to retell the story of how his friend, George Disney died.

Mr. Sapp and his Boy Scouts decided to repair George Disney's grave and make a more lasting memorial to him. They raised money to purchase a granite headstone from Hill Brothers Monument Company of Dalton, and, taking turns, carried the heavy marker and all the tools needed, as they hiked up Rocky Face Ridge where they installed it on Monday, May 13, 1912. They also conducted a ceremony and memorial service where they sang "America the Beautiful" and "Hail, Columbia," and they had a prayer.

Two days later, Kentucky veteran Lt. Lot D. Young of the "Orphan" Brigade and the 4th Kentucky Infantry made the climb to visit the grave and pay tribute to his old comrade. He had heard about the Boy Scout dedication of earlier that week. Mr. Young remembered Rocky Face Ridge as "one of the grand sentinels of nature" a lofty and stone-crowned mountain towering above and looking contemplatively down upon his neighbors and the low-bending valleys." At nearly 80 years of age, Mr. Young made the climb to Buzzard's Roost explaining, "I climbed ... the same identical path traveled by us [in 1864] while doing picket and observation duty ... I was impelled to make this trip - although I felt when I reached the summit I was about to collapse - to see the resting place of a noble and brave old Orphan who was killed while on duty here." Young would later write that the grave and height upon which it rested was "a place that a monarch or king might envy, hundreds of feet above common man."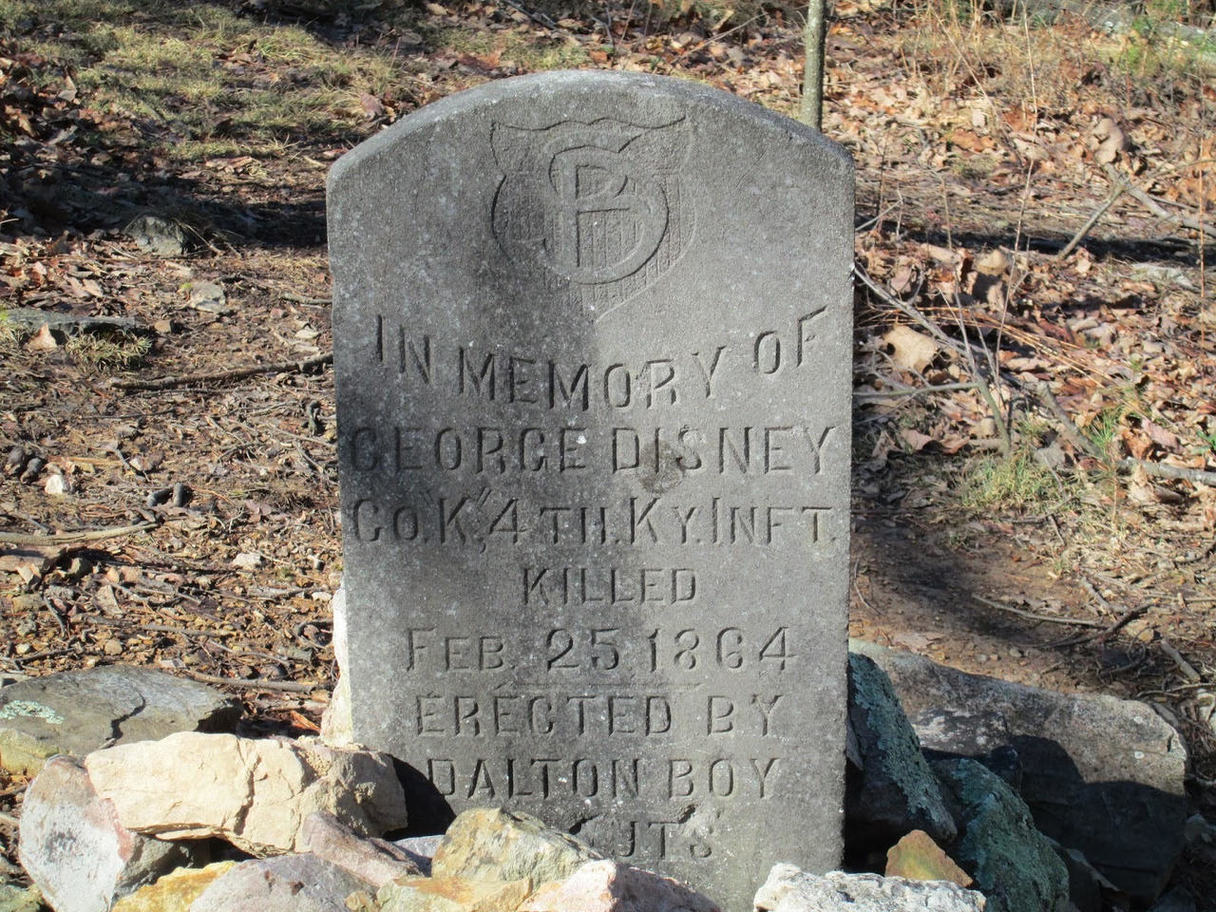 The grave as it appeared from May 13, 1912, until October 17. 2019, when it was vandalized and the headstone destroyed

Since then, thousands of hikers have visited the grave and traveled along the world-famous Disney Trail that is named for him. For 11 decades, Boy Scouts have been repairing and maintaining the trail while Sons of Confederate Veterans (SCV) members and others have decorated the grave.

This grave remained undisturbed for nearly 110 years until on October 17, 2019, Mr. Randy Vaughn, of Rossville, and an SCV member, discovered that someone had pulled up the marker and broken it into several pieces. He contacted the Dalton Police Department, and an investigation commenced.
In the meantime, another SCV member, Mr. Steve Hall of Tunnel Hill, began to make plans for the marker's replacement. Others volunteered, including local Boy Scouts and leaders, when they learned of the vandalism. Then Covid-19 struck and, amid other factors, plans for the grave's repair were put on hold.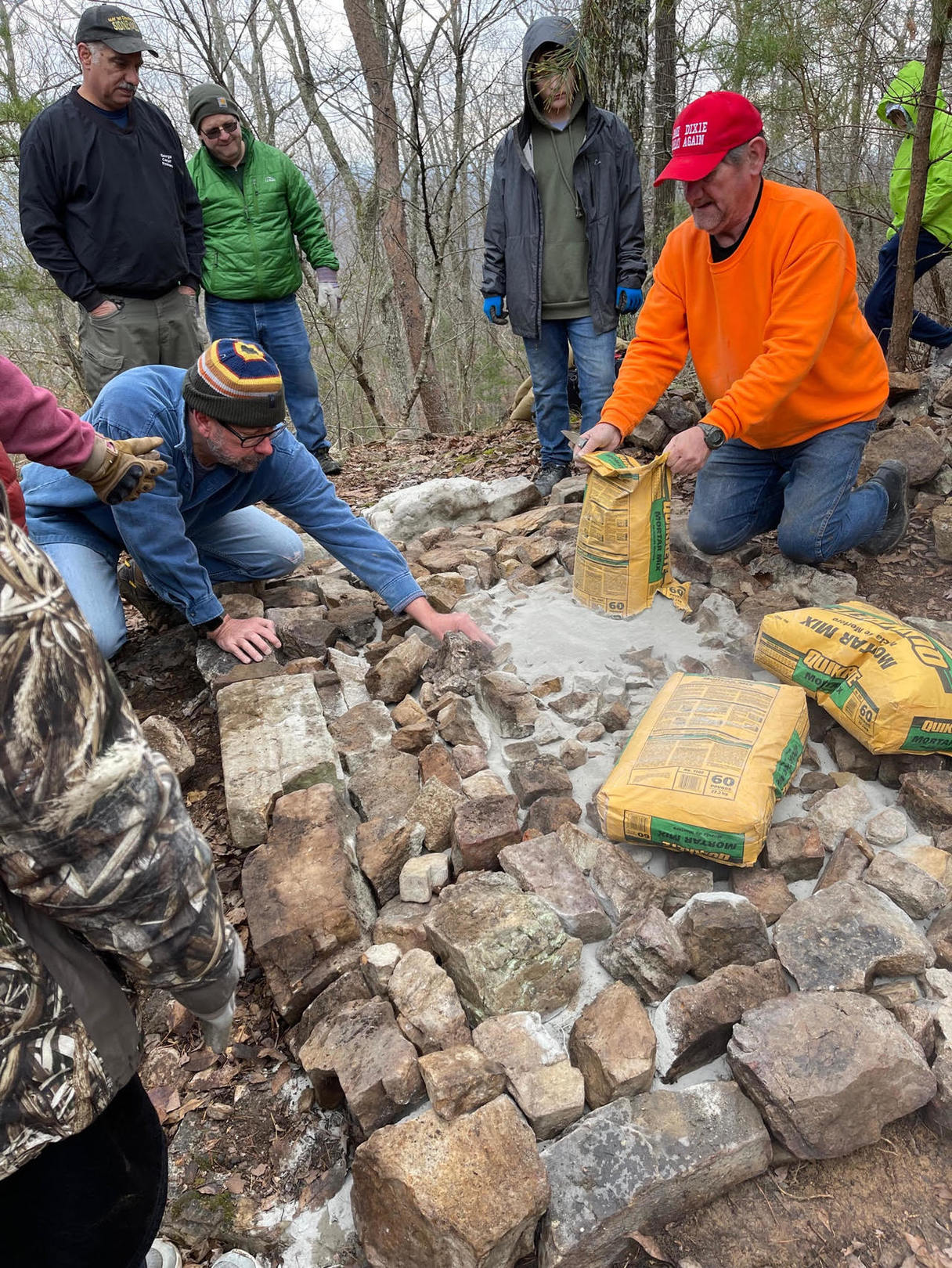 Boy Scouts from Troop 2 (Dalton, Georgia) and Northwest Georgia SCV members working on the Disney grave

In the early morning hours of a cold, rainy Saturday, February 26, 2022, on the 158th Anniversary of George Disney's death, a group of volunteers, including local Boy Scouts and SCV members, climbed Buzzard's Roost once again to repair and replace the tombstone on George Disney's grave. After completing their work, they stopped and gathered around the grave and held a service. Repeating the format of the service that was held nearly 110 years ago by the first group of Boy Scouts, they sang "America the Beautiful," learned about George Disney and the history and legacy of the Boy Scout's service to his grave and trail, and, following a prayer, "Hail, Columbia" was played.

The marker bears the date of February 25, 1864, as the date of George Disney's death, which is what the first group of Boy Scouts interpreted from the severely worn wooden headboard and has been repeated in the first and now second granite marker. Recent research has discovered that Disney was killed on the morning of February 26, 1864, as his unit was sent to Buzzard's Roost on the evening of February 25, 1864, and his service records reveal February 26, 1864, as his date of death. Disney was most likely shot by a federal sharpshooter from across Dogwood Valley at a distance from which his comrades never heard the sound of the shot.

Photos are courtesy of the author.