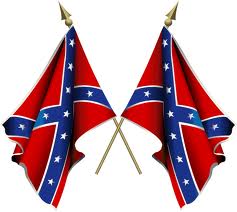 Confederate Heritage Month
By: Calvin E. Johnson, Jr.

Arlington National Cemetery. This story is about the Heroes of "Dixie" who are Commemorated during Confederate History and Heritage Month in April; proclamations are to be signed by Governors, Mayors and County Commissioners in their remembrance and honor.

The world famous Arlington National Cemetery is located in the shadow of the Curtis-Lee Mansion (Arlington House) that was home to General Robert E. Lee and family until 1861 at the beginning of the War Between the States. This cemetery is on the Virginia side of the Potomac River; Washington, D.C. is across the river.

Around the turn of the century 1900, this country also honored the men who fought for the Confederacy. This is preserving our southern heritage of the South. This site of men who fought for
"Dixie" is located in section 16. There is an inscription on the 32.5 foot high Confederate monument at Arlington National Cemetery that reads,
"An Obedience To Duty As They Understood it; These Men Suffered All; Sacrificed All and Died!"

Some claim this Confederate Monument at Arlington may have been the first to honor Black Confederates. Carved on this monument is the depiction of a Black Confederate who is marching in step with the White soldiers. Also shown is a White Confederate who gives his child to a Black Woman for safe keeping.
In 1906, the United Daughters of the Confederacy asked permission from William Howard Taft to erect a monument. Taft was at the time serving as the United States Secretary of War and was in charge of National Cemeteries. With his permission, the Arlington Confederate Memorial Association was formed and the UDC were given authority to oversee work on the monument.
An agreement and contract was made with Sir Moses Ezekiel--a Jewish Confederate Veteran--the record of his service at the Battle of New Market while he was a Cadet at Virginia Military Institute. Work started at his workshop in Italy in 1910, and upon his death in 1917, the Great Sculptor was brought back home and buried near the base of the Arlington Confederate Monument. Sir Moses Ezekiel was honored in his life by being Knighted by the German and Italian Governments.

The Southern Heritage of the South

On June 4, 1914, the Arlington monument was unveiled to a crowd of thousands that included former Confederate and Union soldiers. WE in the south are proud of our southern heritage. The Memorial Event was presided over by President Woodrow Wilson and the people applauded the stirring speeches given by: General Bennett H. Young, Commander In Chief of the United Confederate Veterans; General Washington Gardner, Commander In Chief of the Grand Army of the Republic and Colonel Robert E. Lee, grandson of General Lee.

The Confederate monument unveiling was concluded by a 21 gun salute and the Arlington monument was officially given to the United Daughters of the Confederacy and was given back to the U.S. War Department for keeping and accepted by President Woodrow Wilson who said: "I am not so happy as PROUD to participate in this capacity on such an occasion, Proud that I represent such a people."

Kate Cumming, Confederate Nurse


Kate Cumming was a remarkable woman. Born in Edinburgh, England, in 1835, her family first made their move to Montreal Canada. They would move next to Mobile, Alabama, where Kate,as young woman, quickly adopted to the Southern way of life. It has been written that Cumming was intelligent and courageous in all she did. Kate did not support secession, but, when the South was invaded, she was quick to criticize the actions of Union President Abraham Lincoln. She became a strong supporter of the Confederate cause and looked down at those Southerners who were less patriotic. She believed that every able bodied man and woman should do whatever they could for the South.

In 1862, Kate Cumming helped wounded soldiers at the Battle of Shiloh and in that summer helped in such places as Corinth and Chattanooga. She enlisted in the Confederate armies medical department as a hospitals Matron. Kate was strong in her opinion and an outgoing woman. Her assertiveness would help her work with Dr. S.H. Staub, who believed in the use of woman in hospitals. Kate was known for running very efficient and clean hospital wards and in seeing to every need of the patients and keeping a adequate kitchen.

After the War between the States, in 1866, Kate Cumming published in Mobile, Alabama the "Journal of Hospital Life in the Southern Wartime Hospitals." She also believed that Southern women should take an active part in helping disabled ex-Confederate soldiers.

Kate Cumming never married but she got involved with her friends of such Southern organizations like the United Daughters of the Confederacy and United Confederate Veterans.


---

Southern heritage background of Robert E Lee

By: Calvin E. Johnson, Jr.,
Robert E. Lee Southern Heritage

When the crisis of secession came in 1861, Robert Edward Lee was considered a stellar American patriot. No military man had the leadership ability and confidence of fellow military men like Lee. This is evidenced by the fact that when the War began, Mr. Lincoln offered Robert E. Lee command of the Union forces. Please consider the scenario here. This young man had devoted his life to the service of the Union. He had trained to serve the military of the Union.

His father and his uncles were part of the founding of this Union. Now, his lifelong dream had been realized as he could follow the steps of his hero Washington as commander of the Union. This was the most agonizing choice Lee ever faced. Unlike the fire eaters like Edmund Ruffin, Robert Toombs and William Lowndes Yancey, Lee initially opposed secession, feeling it not the wisest immediate course. So, how could Lee ever turn down this magnificent offer?

Robert Frost's poem, "The Road Less Traveled", concludes with "I took the road less traveled by, and that has made all the difference." We are here today because Lee took the road less traveled by. He chose principle over expediency. Have you considered what would have happened if Lee had taken Mr. Lincoln's offer? Well, for starters, he would have been the North's most brilliant officer and would likely have shortened the War. But Lee's greatness is not diminished due to providence determining that our side lost. Lee's choice was to do that which was right. Lee may have been made President of these United States, may have died a rich man but Lee made a choice that enabled him to die with a clear conscience. He stood for that which he knew to be right.

We thrill at the Biblical stories of Daniel, cast in a den of lions, of little David and his defeat of the wicked giant Goliath with just a sling shot and the three Hebrew children who were cast into the fiery furnace, but yet protected by God. But there are other Biblical examples. John the Baptist was beheaded, early martyrs torn apart by lions and our Lord crucified on a tree. Right is not guaranteed to prevail in this life. Lee understood that he had no guarantee of earthly success, but he chose to do right by standing on the Constitution and in defense of his native Virginia. A man of southern heritage.